Global Market and Economic Perspective
Global Economic Commentary
US real GDP growth in the second quarter of 2021 was lower than expected, but still strong enough to return nominal GDP to its pre-Covid level. Healthy growth in personal consumption expenditures was offset somewhat by a decline in investment spending. The Covid and lockdown induced recession in 2020 turned out to be not only very sharp but also the shortest on record; according to the NBER, it lasted only two months.
Outside the US, recovery is uneven and a function of governments' reaction to the spread of the Delta variant of the virus. Second quarter output growth in the Eurozone was stronger than in the US and was also largely driven by consumption.
US inflation continued to accelerate beyond the market's and policy makers' expectations. Although the Fed continued to maintain that this was temporary as a result of supply disruptions and a rebound from low levels during the recession, price pressures began to spread more widely. For example, numerous businesses offered higher wages, with some even providing sign-on bonuses.
Despite a steady decline in the unemployment rate, the job market continued to exhibit problems. Initial claims for unemployment remain very high, even though many industries – airlines, hospitality, restaurants – were having trouble hiring. Governors in several states stopped supplemental payments.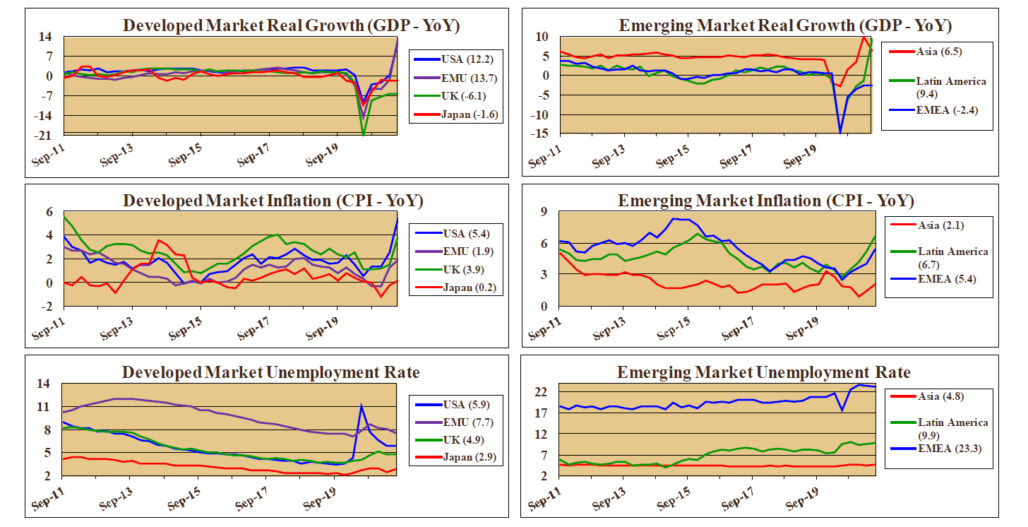 Stairway Partners is an SEC-registered Investment Advisor providing comprehensive investment advice and industry-leading portfolio management solutions. Our firm was created to provide institutions and individual investors with transparent and cost-effective stewardship of their assets. Our sophisticated investment capabilities and a steadfast commitment to the industry's best practices have allowed us to serve as a valued advisor and trusted fiduciary to clients throughout the United States. For more information, please call (630) 371-2626 or email us at stairwaypartners@stairwaypartners.com.
Global Equity and Currency Commentary
In the US equity market, large-cap growth stocks turned in a strong quarter as the large technology companies enjoyed renewed investor interest. This sector of the equity market had been lagging other sectors in recent quarters.
Outside the US, Asian equities, both developed and emerging, were the laggards during the quarter. India experienced a severe wave of the Delta variant, and the Chinese equity market faced a number of restrictive government actions that discouraged investors. One of the most concerning was throwing into question the Variable Interest Entity structure by which Chinese companies in sensitive sectors raise capital offshore.
During the second quarter, the US dollar weakened slightly against a broad array of currencies. This boosted foreign equities' local-currency returns for US dollar investors. Second quarter Dollar weakness reversed a portion of the first quarter's strength.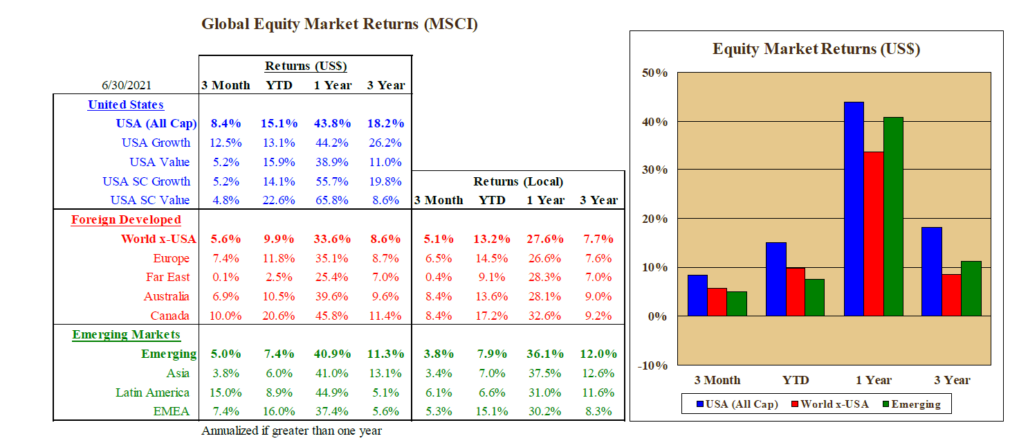 US Fixed Income and Fed Commentary
The second quarter displayed an interesting disconnect between the Federal Reserve and bond market participants. As the inflation data came in higher than anticipated, the Fed's projections showed that they anticipate beginning to raise their policy interest rate toward a more-normal level within the next two years. However, the fixed income markets exhibit no belief that the Fed will take those actions. The Fed funds interest rate implied by prices show that investors believe the Fed will raise rates – but only to 1.0% and will stop there for years.
Bond yields declined, especially at longer-term maturities, in the second quarter. Given little change in the breakeven inflation rate – the difference in yields between nominal Treasury bonds and TIPS – the decline to be driven less by falling inflation expectations than by declines in real interest rates. As a result, fixed income investments provided strong returns during the quarter.


---
Stairway Partners, LLC © 2021
This material is based upon information that we believe to be reliable, but no representation is being made that it is accurate or complete, and it should not be relied upon as such. This material is based upon our assumptions, opinions and estimates as of the date the material was prepared. Changes to assumptions, opinions and estimates are subject to change without notice. Past performance is not indicative of future results, and no representation is being made that any returns indicated will be achieved. This material has been prepared for information purposes and does not constitute investment advice. This material does not take into account particular investment objectives or financial situations. Strategies and financial instruments described in this material may not be suitable for all investors. Readers should not act upon the information without seeking professional advice. This material is not a recommendation or an offer or solicitation for the purchase or sale of any security or other financial instrument.
---